Bed and Breakfast accommodation in Caribbean
Hostal Calzada del Sol


Calzada del Sol guest house is a modern house. It is located in the seaside beach La Boca, located 100 meters from the beach and 4 kms from the city of Trinidad. It has 2 air-conditioned rooms, each with bathroom with cold and hot water 24 hours. Private garage is included in the room rate. ..
Full Details & Contact Information
Hostal Ana en Trinidad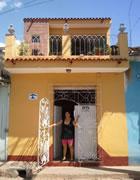 The hostel Ana is located a few blocks from Historic centre of the legendary city of Trinidad. It is a complete modern house on 2 levels with living room, parlour, the first level is the family and the second is where the rooms of the tourists, who are 2 air-conditioned rooms, each with private terrace, bathrooms inside each room with shower with cold water and hot water, terraces on the third floor with panoramic views across the city.
Full Details & Contact Information
Hostal Casa Font


This mansion consists of numerous historic attractions of nature, with furniture and well-preserved architecture, floors and Italian Carrara marble tables, French Baccarat crystal, bohemian crystal from the Czech Republic, Czechoslovakia, original hardwood ceilings, French imperial clock , Spanish bed, imported in 1850 in Lloret de Mar, Catalonia, made of bronze and pearl mainly including furniture and fixtures of Spanish origin.
Full Details & Contact Information
Hostal Don Vivas en Trinidad


The Hostel Don Vivas is located in Trinidad, Cuba. In the central position that has this particular house, you can easily walk to several attractions, both the historic city centre, and the modern part, to clubs like the House of Music, attached to it and the Casa de la Trova, etc. The property is of modern architecture with two levels. Heated rent a spacious room on the second floor, has two double beds, large windows and a bathroom with cold...
Full Details & Contact Information
Hostal Aida y Monica


Aida and Monica Hostel: colonial hostel located in heart of Vedado county, Havana city, Cuba. With a classical atmosphere, spacious, with good comfort, house was built about 1930.
Full Details & Contact Information
La Margarita B&B, Old Havana, Cuba


La Margarita Bed and Breakfast is located in old Havana, near of almost all important places to visit. The Old Plaza, The Floridita, Bodeguita del Medio, Capitolio between many other places that you could visit.
Full Details & Contact Information
Windy Seas Bed and Breakfast


Enjoy Jamaica in the privacy of our comfortable yet affordable home. Get a queen-sized bed to lay your head and view the beach from your room. There are several restaurants, bars and attractions nearby for you to enjoy. There are 2 rooms available with a kitchen, dining room, great room and 2 porches. Enjoy Jamaica on your own terms in a laid-back atmosphere. Wi-Fi, breakfast and airport pickup/drop off included.
Full Details & Contact Information
Santa Clara Cuba Bed and Breakfast Hostal Vista Park


Colonial house in the heart of Santa Clara, with a classic, spacious and airy colonial ambience, in very good condition and comfort, to the right of the provincial library 'José Martí', and overlooking the Parque Vidal, nearly all centers cultural, where you have access to the extensive cultural life of the city.
Full Details & Contact Information
Casa Grether Carlos


Casa Grether Carlos Bed & Breakfast in the centre of Vinales, Cuba. It offers one comfortable and clean room with all modern facilities. The hosts of Casa Grether Carlos Bed & Breakfast speak fluent German and English and are always available to help you.
Full Details & Contact Information
Hillcrest Guest House, St. John, US Virgin Islands


Perfect Place to feel human again. St. John, US Virgin Islands is a US Territory and no passport is needed for US Citizens. Vacation rental suites with romantic ocean views, operating as a Bed and Breakfast has air condition, beach equipment, free Wi-Fi and complimentary menu. In suite kitchen or kitchenette, nearby to beaches, supermarkets, churches and banks with ATM machines. The climate is warm all year round. Many beaches are nearby.
Full Details & Contact Information
Casas Particulares | Destino Habana


Now with Destino Habana you could book a private house or apartment to spend your days in Havana and even to share with a Cuban family. Don't miss this great opportunity to meet the real Havana.
Full Details & Contact Information
Roy's Terrace Inn
Casa particular / Bed and Breakfast / Inn with 4 clean and comfortable rooms with private bathrooms available for you. Conveniently located at 4-min walk from main square Parque Céspedes, the cathedral, Casa de la Trova, banks, restaurants, shops and most of the city's landmarks. Continental breakfasts and Cuban traditional home-made food served at our charming terrace with lovely bay and mountain views. Roy's Terrace Inn: plunge into real
Full Details & Contact Information
Howler Monkey Resort


A locally owned and operated jungle lodge in the middle of most major destinations. Belize City and Phillip Goldson International airport are about 30mins. drive from the lodge.
Full Details & Contact Information
Great Value Mins from Kingston


Feel the cullture in Bull Bay, JA. Beautiful large gated property. 1 XXLarge bedroom and bathroom. Newly renovate. Enjoy the gorgeous yard and feel like you are in paradise. Bask in the lush green and floral garden. Pick and eat from the many fruit trees like mango, gynip, star fruit, banana, plantain and more. On the s/e coast of JA 10 miles East of Kingston. Minutes from beaches and town. Close to historic Port Royal, Natural Springs Mineral Ba
Full Details & Contact Information
Hostal Shalom in Trinidad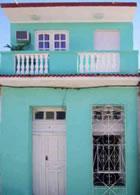 La Santísima Trinidad, the third village founded in Cuba in 1514 by Spanish conqueror Diego Velázquez de Cuellar is considered the museum- city of Cuba and the Caribbean. The ancient village is a world Heritage Site together with the Sugar Mills Valley since 1988 for all its patrimonial, natural and historical values. In this case, we offer you the Hostal Shalom, which it is a colonial house located right at the center of the city. It has two ind
Full Details & Contact Information
Casa Angerona Vedado
Casa Angerona ….donde la tranquilidad y el silencio, será tu mayor patrimonio.Moderno apartamento, estilo español, que le permitirá disfrutar de la tranquilidad que necesita, compartir con amigos y familia. Haremos de su viaje, una experiencia inolvidable
Full Details & Contact Information
Hostal Casa Jose y Fatima


Hostal Jose and Fatima in Trinidad, where modernity and classic styles are present. Nice casa in Trinidad downtown, with most facilities in 2 charming rooms. Air conditioning, hot water, meals services and terrace to view the city or for sunbathe. Air-conditioning, Private Bathroom, Private Terrace and Garden, Garage available - Facilities: Hot Water, 110v / 220v, Hair Dryer, English spoken, Quality rates Rooms: 2 Double (PAX per room
Full Details & Contact Information
Casa Lugarda en Trinidad


Casa Lugarda es una casa moderna con sala, saleta, que renta un cuarto climatizado con baño en el interior de la habitación, con ducha con agua fría y agua caliente, patio con jardin, etc. Es una casa con privacidad, seguridad y un ambiente cordial. Con Lugarda, la propietaria, y familia encontrará un ambiente alegre que lo acogerá e invitará para que repita la aventura vivida.
Full Details & Contact Information
Hostal Rigo


Hostal Rigo is a colonial house, located just 20 meters from the Plaza Mayor, surrounded by museums and old buildings with great views and privacy. Has one climatized rooms on the second level with direct access to the terrace, with beautiful views of the city, the sea and the mountains. The room has 2 beds a double and the other staff, has air conditioning, private bathroom with hot and cold water 24 hours, TV and refrigerator stocked with water
Full Details & Contact Information
Hostal Xiomara y Delvis


Hostal Xiomara & Delvis is a colonial remodeled complete with room, saleta, 2 acclimatized rooms, kitchen, bathrooms inside each room with cold water and hot water, patio, terraces in the second level, etc. is a house with family, with privacy, security and a cordial atmosphere. Quantity of rooms of the house: 2 Price: 25 cuc
Full Details & Contact Information