Bed and Breakfast accommodation in Caribbean
Hostal Ana en Trinidad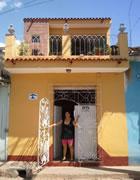 The hostel Ana is located a few blocks from Historic centre of the legendary city of Trinidad. It is a complete modern house on 2 levels with living room, parlour, the first level is the family and the second is where the rooms of the tourists, who are 2 air-conditioned rooms, each with private terrace, bathrooms inside each room with shower with cold water and hot water, terraces on the third floor with panoramic views across the city.
Full Details & Contact Information
Hostal Calzada del Sol


Calzada del Sol guest house is a modern house. It is located in the seaside beach La Boca, located 100 meters from the beach and 4 kms from the city of Trinidad. It has 2 air-conditioned rooms, each with bathroom with cold and hot water 24 hours. Private garage is included in the room rate. ..
Full Details & Contact Information
Hostal Casa Font


This mansion consists of numerous historic attractions of nature, with furniture and well-preserved architecture, floors and Italian Carrara marble tables, French Baccarat crystal, bohemian crystal from the Czech Republic, Czechoslovakia, original hardwood ceilings, French imperial clock , Spanish bed, imported in 1850 in Lloret de Mar, Catalonia, made of bronze and pearl mainly including furniture and fixtures of Spanish origin.
Full Details & Contact Information
Hostal Don Vivas en Trinidad


The Hostel Don Vivas is located in Trinidad, Cuba. In the central position that has this particular house, you can easily walk to several attractions, both the historic city centre, and the modern part, to clubs like the House of Music, attached to it and the Casa de la Trova, etc. The property is of modern architecture with two levels. Heated rent a spacious room on the second floor, has two double beds, large windows and a bathroom with cold...
Full Details & Contact Information
Hostal Aida y Monica


Aida and Monica Hostel: colonial hostel located in heart of Vedado county, Havana city, Cuba. With a classical atmosphere, spacious, with good comfort, house was built about 1930.
Full Details & Contact Information
La Margarita B&B, Old Havana, Cuba


La Margarita Bed and Breakfast is located in old Havana, near of almost all important places to visit. The Old Plaza, The Floridita, Bodeguita del Medio, Capitolio between many other places that you could visit.
Full Details & Contact Information
Windy Seas Bed and Breakfast


Enjoy Jamaica in the privacy of our comfortable yet affordable home. Get a queen-sized bed to lay your head and view the beach from your room. There are several restaurants, bars and attractions nearby for you to enjoy. There are 2 rooms available with a kitchen, dining room, great room and 2 porches. Enjoy Jamaica on your own terms in a laid-back atmosphere. Wi-Fi, breakfast and airport pickup/drop off included.
Full Details & Contact Information
Casa Grether Carlos


Casa Grether Carlos Bed & Breakfast in the centre of Vinales, Cuba. It offers one comfortable and clean room with all modern facilities. The hosts of Casa Grether Carlos Bed & Breakfast speak fluent German and English and are always available to help you.
Full Details & Contact Information
Hillcrest Guest House, St. John, US Virgin Islands


Perfect Place to feel human again. St. John, US Virgin Islands is a US Territory and no passport is needed for US Citizens. Vacation rental suites with romantic ocean views, operating as a Bed and Breakfast has air condition, beach equipment, free Wi-Fi and complimentary menu. In suite kitchen or kitchenette, nearby to beaches, supermarkets, churches and banks with ATM machines. The climate is warm all year round. Many beaches are nearby.
Full Details & Contact Information
Casas Particulares | Destino Habana


Now with Destino Habana you could book a private house or apartment to spend your days in Havana and even to share with a Cuban family. Don't miss this great opportunity to meet the real Havana.
Full Details & Contact Information
Great Value Mins from Kingston


Feel the cullture in Bull Bay, JA. Beautiful large gated property. 1 XXLarge bedroom and bathroom. Newly renovate. Enjoy the gorgeous yard and feel like you are in paradise. Bask in the lush green and floral garden. Pick and eat from the many fruit trees like mango, gynip, star fruit, banana, plantain and more. On the s/e coast of JA 10 miles East of Kingston. Minutes from beaches and town. Close to historic Port Royal, Natural Springs Mineral Ba
Full Details & Contact Information
Hostal Casa Brisas de Alameda


Casa Brisas de Alameda in Trinidad offer 2 comfortable rooms in a family home. This Casa is located in the colonial zone and it is restored and rebuild using traditional techniques. They prepare Cuban meals with a French finishing touch as a passion. The owners speak Spanish, French and English. Air-conditioning, Private Bathroom, Patio, Facilities: Hot Water, 110v / 220v, English and French spoken Rooms: 2 Twins
Full Details & Contact Information
Refugio de Reyes Guest house


We offer two luxurious rooms for rent. One room is a penthouse that occupies the third floor, with a spacious bedroom, kitchenette, bathroom and terrace with great views of the city that is also ideal for sunbathing and resting. A second room is located on the first floor inside the main house in an agreeable area that is secluded by a garden of fruit trees, vines, ornamental plants, and exotic fishes. Both rooms have air conditioning....
Full Details & Contact Information
Casa Patricio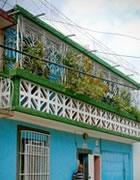 El hostal Casa Patricio está ubicado en el centro de la ciudad de trinidad muy cercana a los lugares que mas gustan y frecuentan los visitantes: tiene entrada independiente, en segundo nivel, posee dos confortables y bien distribuidas habitaciones, cada una cuenta con baño privado, frigorífico con lo mas necesario para consumir, aire acondicionado, agua fría y caliente, ventana a la calle, instalación eléctrica con 110-220 voltios 60hz...
Full Details & Contact Information
Casa Lugarda en Trinidad


Casa Lugarda es una casa moderna con sala, saleta, que renta un cuarto climatizado con baño en el interior de la habitación, con ducha con agua fría y agua caliente, patio con jardin, etc. Es una casa con privacidad, seguridad y un ambiente cordial. Con Lugarda, la propietaria, y familia encontrará un ambiente alegre que lo acogerá e invitará para que repita la aventura vivida.
Full Details & Contact Information
Hostal Rigo


Hostal Rigo is a colonial house, located just 20 meters from the Plaza Mayor, surrounded by museums and old buildings with great views and privacy. Has one climatized rooms on the second level with direct access to the terrace, with beautiful views of the city, the sea and the mountains. The room has 2 beds a double and the other staff, has air conditioning, private bathroom with hot and cold water 24 hours, TV and refrigerator stocked with water
Full Details & Contact Information
Hostal Xiomara y Delvis


Hostal Xiomara & Delvis is a colonial remodeled complete with room, saleta, 2 acclimatized rooms, kitchen, bathrooms inside each room with cold water and hot water, patio, terraces in the second level, etc. is a house with family, with privacy, security and a cordial atmosphere. Quantity of rooms of the house: 2 Price: 25 cuc
Full Details & Contact Information
Casa en Cuba


Travel to Cuba. Selected holiday homes. Luxury accommodations in Cuba. Homes for rent with high comfort conditions. Budget accommodations. Villas with pools, apartments and holiday homes. Information for tourists.
Full Details & Contact Information
Hostal La Gallega


The hostal La Gallega is a built house at the end of the century 19 and principles of the 20, for a Spanish emigrant of Galician origin which settled down in Cuba with her family. The same one maintains the architecture of the colonial time partly of the same one, since it has been remodeled in the course of the years by the descendants of the Galician. The house has in the low plant 4 bedrooms with 2 bathrooms, 2 kitchens, terrace with bathroom,
Full Details & Contact Information
Private Rooms Mylena y Otto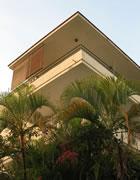 Welcome to Mylena y Otto Private Rooms! Winner of the 2011 HostelBookers Award for Excellence and Best Value Award march 2013. We´re located in Vedado a safe and clean area of Havana. We offer 2 private rooms with 2 beds each and a shared bathroom living room and kitchen. Both rooms are impeccably clean and attractively furnished Tenants are welcome to enjoy our wonderful third-story terrace which offers a magnificent view (sunsets!) of Havana
Full Details & Contact Information