Bed and Breakfast in India
Farmhouse Accommodation


Farm house is available for tourists visiting Coorg or Kodagu districts. With parking free.
Full Details & Contact Information
Karthika Plaza B&B Inn


An affordable 100â0trip advisor approved B&B/ Inn, located near Varkala beach and cliff. This family-run B&B prides itself on making its guests feel at home and totally relaxed, all within a warm and friendly environment. The beautiful surroundings and peaceful atmosphere of karthika plaza resort will make you want to return to this well-loved and cared-for B&B again and again. Experience true South Indian hospitality. Hearty breakfasts are serve
Full Details & Contact Information
The Best Bed and Breakfast of Gurgaon. Rated No. 1 by Trip Advisor


We are the Top Bed & Breakfast in Gurgaon(30 min from the Airport). We have 8 AC rooms -Grand( 2nos.), Green( 2nos.), Puraani Jeans(2 nos.), Doodle & Unwind! While the rooms are all done up differently, they all cost the same! Our rates are Rs 3500/-& Rs 3800/- for single & double occupancy respectively. The rate includes all taxes & a nice healthy breakfast.
Full Details & Contact Information
Kohinoor Bed and Breakfast


Kohinoor Bed & Breakfast -Gurgaon- India is one of the best option for tourist, Students, Travellers, Wedding Staying People with all the best facilities Power-Back-up, Satellite Tv, Wi-fi- Internet, Well Furnished, Parking, Safe & Secure, Neat & Clean approved by Ministry of Tourism India
Full Details & Contact Information
Trendy Bed and Breakfast, New Delhi (South)


The rooms at Trendy are tastefully furnished, spotlessly clean, air-conditioned, with attached private and exclusive bathrooms with western toilets with hot/cold water, fully made up double or twin beds with comfortable mattresses. Hygiene and cleanliness is our focus. Complimentary breakfast is served between 8:00am to 9:30am, and lunch and dinner is served on request. We also have a reverse osmosis water filtration plant installed the same tech
Full Details & Contact Information
PG / Homestay facility for Expat Females / Couple in Mumbai


Safe & decent Homestay / BNB facility on twin sharing basis just 1.25 Km from T II - Mumbai Airport (CSIA) in JB Nagar-Andheri-E in a very well developed and safe locality for Expat Females / Couple visiting Mumbai ( Bombay) for Tourism /Internship and wishing to stay with a cultured Indian family.
Full Details & Contact Information
The Blue House (R) Guest House, Jodhpur


A royal unique experience.... where- a real original blue budget guest house where you find cosy, atmospheric, luxury, comfort, superb clean blue rooms. With panoramic view of fort-blue city with sunset-sunrise.
Full Details & Contact Information
The Estate


The Estate is a charming B&B located in the green and exclusive Sultanpur Estate in Mehrauli. A registered Gold Category accommodation, it is ideally located in a twenty-five minutes driving radius from the Airport and Gurgaon The guesthouse is located in the annexe of the main house - welcoming yet private. The B&B has 5 rooms with individual charm. All rooms are are lawn facing and well equipped with all modern amenities.
Full Details & Contact Information
On The House


On The House, has seven well appointed, clean, air-conditioned rooms, with attached private bathrooms with western toilets and mini fridges in the rooms. Luxurious Living & Dining Rooms provide an apartment living ambience with a lovely terrace garden. It is renowned for its spotless standards of cleanliness and warm, homely service. On The House offers elegant, affordable accommodation and warm hospitality with a relaxing atmosphere.
Full Details & Contact Information
House of Kapaali B&B


An approved B&B under the Gold Category, of Ministry of Tourism, Government of India, House of Kapaali is a quite oasis, located in Delhi NCR. Fully equipped with the latest conveniences, the two suites comprise of queen size beds, lavished with rich fabrics, beautiful wooden floors and distinct furnishings, A/C, televisions (with full cable access), refrigerators, intercom and High Speed Internet Connection (Broadband). There is also a choice of
Full Details & Contact Information
Heritage House Hotel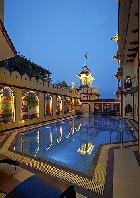 Umaid Bhawan is an old heritage property converted into a family run hotel. Umaid Bhawan has a delectable range of Indian cuisine on offer.
Full Details & Contact Information
Zuari View Guest House


Small guest house and suite with outstanding ocean views, all run to a good western standard. Centrally located, this is an ideal base to explore Goa.
Full Details & Contact Information
Fort Inn B&B Homely stay at a Heritage Home at Fort Cochin.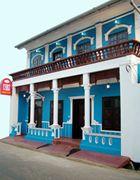 The Fort Inn with all the laid back splendour of a colonial villa has been transformed by a design conscious restoration.
Full Details & Contact Information
Tej Abode


Tej's Abode (Ministry of Tourism, Gold Category), Bed n Breakfast with the charm & intimacy of a private hotel. Feel at home, savouring large, elegantly appointed rooms. 24* 7 home cooked meals, housekeeping, AC's, TV, WiFi, etc. Luxurious Living & Dining Rooms provide an apartment ambience. Renowned for its spotless standards of cleanliness & warm service. Located in a posh residential centre in South Delhi, 20 mins from Airport & City cent
Full Details & Contact Information
Bed and Breakfast New Delhi
Bed and Breakfast, New Delhi offer something different, a convenient and fuss-free alternative to Delhi hotels is situated at a central place in New Delhi. We are providing bed and breakfast accommodation at our private residence. Your Host Ajay and Purnima Bansal will take a great care at their private residence and make your stay comfortable. At their bed and breakfast accommodation a great care is taken and more focus is on comfort and
Full Details & Contact Information