Bed and Breakfast in Burgundy
Ribourdin Castle : Charming Bed and Breakfast in Burgundy


At 150 km of Paris, Marie-Claude and Claude Brodard invite you to benefit from the quietness of the countryside at Château de Ribourdin, raised below the village of Chevannes. The 5 rooms await you in the outbuildings of this 16th-century castle. They face east and offer a great view of the surrounding country. Each one has its own personality, style and colours. You'll appreciate the calm of this castle and the copious breakfasts. Ideally situat
Full Details & Contact Information
Les Sarilles


Bed & Breakfast Les Sarilles Les Sarilles is an ancient farmhouse perched on a hillside in the rolling landscape of Southern Burgundy. Les Sarilles once belonged to the abbey of Cluny and dates from the beginning of the 16th century. The building has recently been transformed into a luxury bed & breakfast.
Full Details & Contact Information
Creative Ceramics B&B


English owned B&B half way between England and the south of france which makes us a great stop over on route. We also have lovely places of interest around us. Beaune with the beautiful old hospice buildings and Monday Markets in Louhans to name just a couple. We have lovely rooms and ease of access no stairs. We serve a lovely fresh breakfast with bread from local bakers and home made muffins and preserves, Fruit and cereals and tea or coffee.
Full Details & Contact Information
La Grange Fleurie


Christine and Grahame offer you a warm and comfortable welcome in the heart of beautiful, rural Southern Burgundy- the land of wine, chateaux and Romanesque churches. A short drive from the towns of Mâcon and Cluny and the A6 motorway, La Grange Fleurie is ideally situated for a holiday or a night's stopover on the North/ South journey. Our rooms are large and spacious and breakfast features local produce and a range of home-made jams
Full Details & Contact Information
Les Dryades


Charming Bed and Breakfast room with ensuite bathroom, on the ground floor of a beautiful house surrounded by greenery and English style garden, with french window opening to a large terrace sheltered by a fig tree. In the heart of a small village the house is at the end of a dead end which guarantees no car noises and extra security. When the local weather allows it breakfast or other meals can be served on the terraces
Full Details & Contact Information
Manoir Montdidier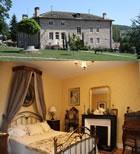 Manoir Montdidier Luxury Bed & Breakfast and Spa located in southern Burgundy near the famous Benedictine Abbey of Cluny and the Beaujolais vineyards is the perfect place to spend a relaxing weekend or holiday. Only minutes from historic chateaux, Roman churches, prehistoric caves and many other attractions, there is something for everyone to enjoy. Experience real French life with a visit to Burgundy.
Full Details & Contact Information
Les Chardonnereux Chambre à Beaune


Graham and Candida offer you a warm welcome to their home – Les Chardonnereux. Les Chardonnereux is a large traditional French house which was built between 1900 and 1910 for a local wine making family (the climat which bears the same name can still be located in the vineyards to the rear of the house). Being only a short 5 minute stroll to the Old Town and now within an even shorter stroll to two Michelin starred restaurants.
Full Details & Contact Information
Les Roches


Les Roches offers the experience of staying in a private country residence where we have just six guest bedrooms. Les Roches is located in a hilltop medieval village of Mont-Saint-Jean with unobstructed views of the countryside. The setting of Les Roches is picturesque and tranquil where our guests can unwind and feel completely relaxed. We are situated in the Côte d'Or and within an easy reach of the famous Burgundy vineyards.
Full Details & Contact Information
Le Relais de Chasse, chambres and table d'hôtes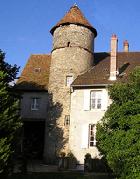 In an old village, opposite a 11th century church, you'll find Le Relais de Chasse (16th/18th century). Four spacious and luxurious bedrooms with well equipped en suite bathrooms are available within its walls. Outside the Relais you can enjoy our 10.000 m2 of garden/park. And beyond that you can experience all the great things the Nievre has to offer.
Full Details & Contact Information
English owned B and B in southern Burgundy


A welcoming place to stay in the wine producing area of the Maconnais and a short distance from the Beaujolais area. Offering three comfortable rooms, evening meals, hot tub and private garden, guest salon and WIFI. Ideally placed for cycling, walking and wine tasting holidays with easy access by plane, road and train. Good stopover point for Alps, Italy or southern France.
Full Details & Contact Information
Carpe Diem


4 Epis Gîtes de France. Charm Label. On a former 19th century farm on the bank of the Serein, situated a few kilometers from the medieval village of Noyers, the Chablis vineyard and the Basilica at Vezelay, 5 rooms, furnished with care, can welcome 13 people.
Full Details & Contact Information
English owned B&B in Burgundy


Great base for touring the wonderful countryside and vineyards of Burgundy and the less well known, but highly individual wine region of the Jura. Ideal location for a stop en route to or from the Alps or South of France
Full Details & Contact Information